Comfort Zone

Claude Eigan
Solo Exhibition at L'Espace de l'espèce, Berlin
Curated by Kerstin Godschalk

26.01.2016 – 10.02.2016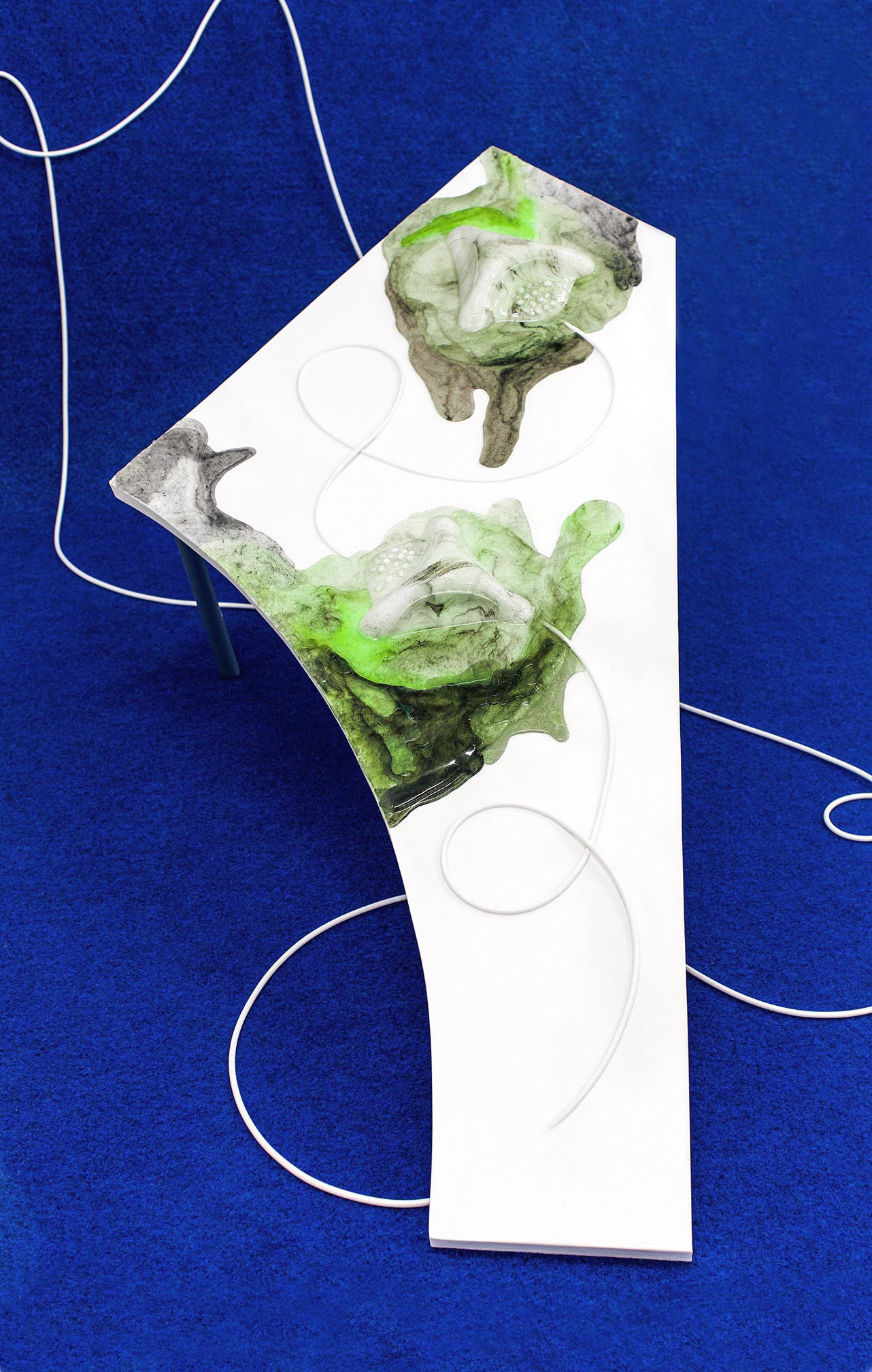 After 6 protoform (specimen 1), 2016
Ceramic plaster, wood, liquid plastic, sand, carpet, table legs
172 x 75 x 75 cm

After 6 protoform (specimen 4), 2016
Ceramic plaster, wood, coffee, liquid plastic, sand, table legs
135 x 55 x 40 cm


After 6 protoform (specimen 2), 2016
Ceramic plaster, wood, carpet, liquid plastic, sand, table legs
120 x 55 x 37 cm

Under C-level, 2016
Ceiling lights boxes, broken neons, LED 'breathing' lights, size of each box : 62 x 62 x 10 cm
Link to video
Comfort Zone
Claude Eigan
In Comfort Zone, Claude Eigan created a parallel "after-hours" workplace, an in-between world in which time seems distorted: everything here is on hold, waiting to be re-activated. Typical devices from corporate offices are now evolving on their own, proliferating like bacterias on the surface of what used to be desks.
Like in most of Eigan's installations, political and societal themes are always just below the surface.
In this case, the artist explores the contrast between the never-ending need for efficiency found in a typical workplace environment, and the growing concept of slow-living.
All pictures by
Maansi Jain




I'll be here when the company calls
and let you rest in my arms as we go through the minutes
I'll be here when the company calls
and exhale all the light powered from my inside
I'll be here when the company calls
to stretch the window-shaped piece of the sky and wrap you in its dynamic cover
I'll be here when the company calls
and seamlessly spit a soft breeze on your bored tongue
I'll be here when the company calls
to rise against the C-level
I'll be here when the company calls
to turn the minutes into minerals and pay off your debt to nature

Poem by Alizée Lenox